Year 3 Class News
Year 3 Beach School
This week, Year 3 were very excited to go to the beach for their first Beach School session of the term. We walked together to Cubbins Beach, carrying all the equipment that we would need between us. When we got to the beach, we set up our 'boundary' so that we made sure we all stayed safe. Mrs Gardener taught us about the two different tides - a Spring tide and a Neap tide. We discovered that the type of tide depends on the position of the Earth, sun and moon. With our eco-friendly 'paint' and 'paintbrushes, 'which we had made earlier on in school, we each found three rocks and painted them to represent the Earth, sun and moon.
We also had great fun playing a game which involved trying to turn a tarpaulin over as a team whilst still standing on it! Anyone, who stepped off the tarpaulin was in 'quicksand' and had to 'starfish' on the beach! We also learned how to tie a special kind of knot using a piece of string and a thin, wooden 'stake.' We were very lucky to have lovely weather for our trip and everyone had such a wonderful learning experience with lots of fun thrown in for good measure! Thank you to Mrs Gardener for organising everything! We cannot wait for our next Beach School session next week!
For more photos please the Year 3 Gallery.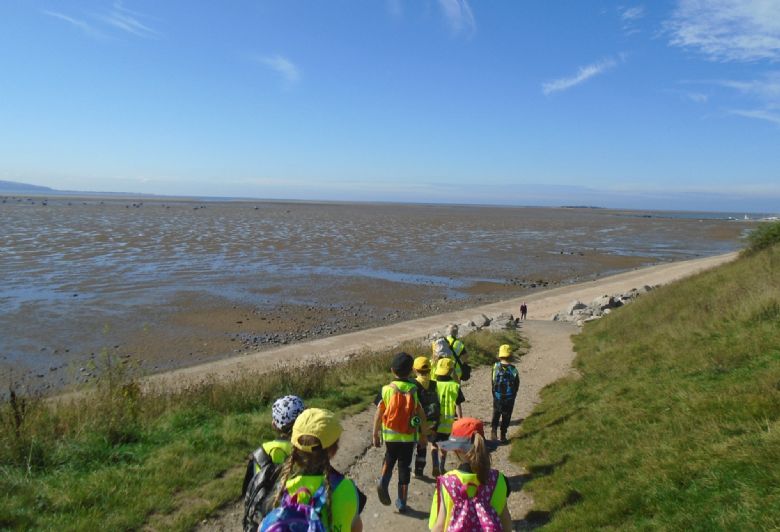 Place Value Maths
For Year 3's first two weeks in maths, we have been learning about place value.
In our first lessons, we used post-it notes and tape to create large numbers: 0-100 and 0-1000. We worked in groups, to make two and three digit numbers using place value cards and added these to the number lines where we think they should go.
Next, we used place value counters to make three digit numbers and wrote these as addition sums; e.g. 200 + 40 + 7 = 247. To understand place value even further, we looked at each column and discussed what would happen if we took all the counters away. After having a go, we learnt that we put a 0 in the column as a place holder. E.g. 247 – 40 = 207
We are looking forward to learning more maths this year!
For more photos please the Year 3 Gallery.