Year 6 Class News
Gymnastics
Last week, what started off as a gymnastics lesson on matching shapes and movements with a partner, ended up with a synchronised whole class movement.
Having talked through, practised and demonstrated their coordinated movements with their partners, the children wanted to see if they would work in a group. The sequences were agreed and they looked great. So then, the children wanted to see if the whole class could join together in one synchronised movement. Working as a class, with minimal adult input, they decided what they would do and how they would do it. It turned out to be a beautifully executed movement in the shape of a 6.
The children cooperated with each other working out how to ensure that ideas were heard and considered; each child found their role in the activity – some emerged as leaders, some were encouragers, some simply listened carefully while others helped to move the mats. The Year 6 children learnt much about working as a team, contributing their ideas and skills and experiencing the thrill of performing their own creation.
Click on the link for the Year 6 Gallery.
Animal Stuffed Toys
Throughout this half term, Year 6 have been completing a project to design and make a soft toy based on an animal from Europe. To begin with, the children completed some research and chose the animal that they would like to make into a toy. They then drew the animal, so they could see the outline shape and any details that they would need to include. Next, using felt, year 6 cut out any details such as eyes, noses, mouths, stripes etc. As well as the main outline of their animal x2 (one for the front and one for the back). They glued their details onto their animals so now they were ready to sew. Firstly, we had a practise lesson to understand what type of stitch they wanted to include. The children learnt a running stitch and some had a go at a blanket stitch. Finally, they stitched around the edge of the animals, stopping to put in some stuffing, then finishing off to complete their soft toys. I am extremely impressed with the perseverance, skills and determination of year 6 and very proud of what each individual has achieved. Well done!
Click on the link for the Year 6 Gallery.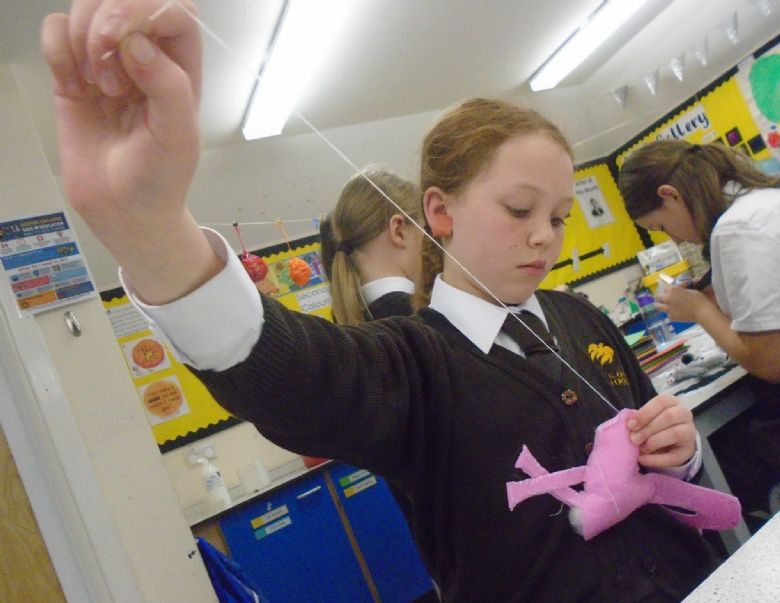 Lets Share to Show We Care
In the preparations for their presentation for Share to Show We Care, Year 6 have shown a great depth of understanding and empathy for the issue of extreme child poverty in the developing world.
The Year 6 performance on Friday was directed by EB and JS, who led with sensitivity and were clear and fair in their decision making.
The children delivered their thoughts and hopes on poverty and its solutions with originality and to great effect.
They read some factual information out with clarity, performed a thought-provoking poem entitled Hunger Pains and sang beautifully the emotive Tears are not enough, a supergroup Canadian single from 1985.
The performance was delivered in an informal environment with the children standing around the parent audience.
Click on the link for the Year 6 Gallery.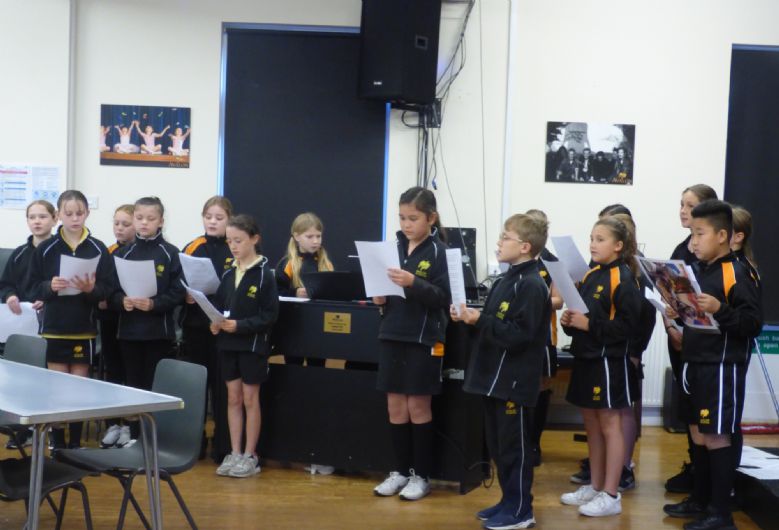 Creating Blitz Silhouette Pictures
Year 6 have been enjoying their cross-curricular work on World War II for the last few weeks of half term. In their final session of art, they created beautiful Blitz Silhouette pictures. Firstly, they used pastels to form their brightly coloured backgrounds. Understanding that the colours are to represent fire, the children used reds, oranges, pinks, purples and yellow to form layers that blend together. Then, using black paper, they drew and cut out their silhouettes of buildings to glue onto the bright background. We learnt that silhouettes pictures are amazing as they show a big contrast between the bright background and the dark silhouette (usually something with a deep meaning such as the war).
Click on the link for the Year 6 Gallery.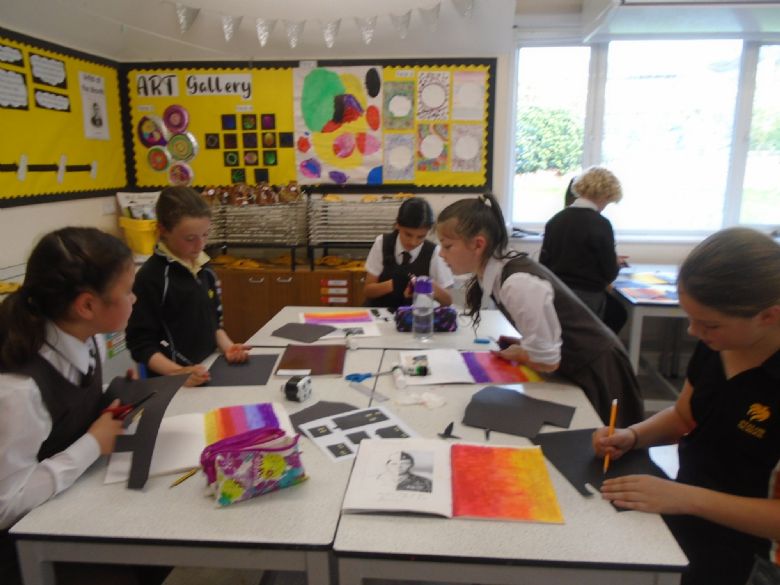 Studying the Book "Friend or Foe" in History
The Year 6 classroom and landing were taken over by a bus load of World War 2 evacuees, volunteers from the village in Devon, and foster families ready to provide a safe home away from the bombing. They were, in fact, re-enacting part of our class reading book – Friend or Foe – which we are reading to complement their History topic on World War 2. Director of the re-enactment – AR – was able to make insightful suggestions to the sleepy, and homesick, evacuees; the busy ladies who were providing soup and hot cocoa and the rather nervous (and choosey) foster parents.
The children worked together brilliantly, getting into their roles effectively and empathetically and developing a deeper understanding of what the evacuation experience might have been like.
Click on the link for the Year 6 Gallery.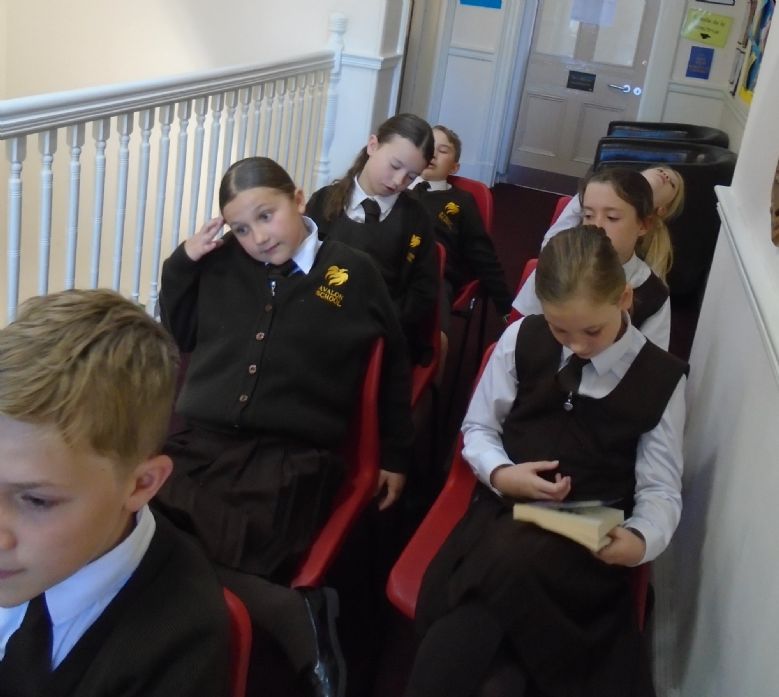 School and Eco Council Elections
The Year 6 children who stood for election to the School and Eco Councils last week, were really enthusiastic, knowledgeable and persuasive. Congratulations to all the candidates who showed a desire to contribute to school and community life. The voting, which was done by secret ballot, resulted in an extraordinarily close results.
The School Council candidates were: ML, the listener; EB for fairness; RW for enjoying school life; SM for fun and food; and JP for making the world a better place. This term, Year 6 will be represented by JP and EB.
The Eco Committee candidates were: Eco EB; LM for healthy, happy and eco; AR to help the animals; ML for eco environment; and Recycling RW. This term, Year 6 representatives on the Eco Council are: LM and AR.
Congratulations and thank you to all the candidates who showed a desire to contribute to school and community life.
Click on the link for the Year 6 Gallery.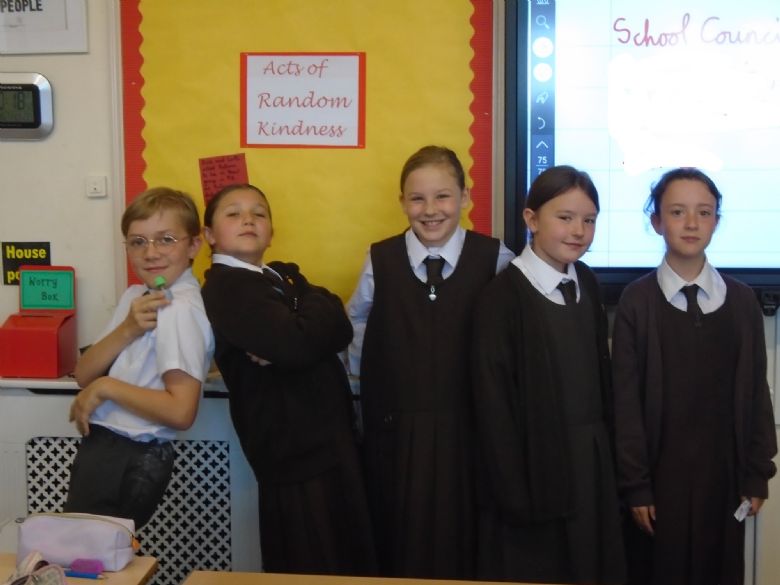 The Circulatory System in Science
As part of their science topic of the circulatory system, Year 6 were learning all about the heart this week.
They labelled the major chambers, valves and blood vessels of the heart.
They then had a go at making their own hearts out of playdough.Year 6 did a fantastic job and they were very enthusiastic throughout the whole lesson. Well done Year 6!
Click on the link for the Year 6 Gallery.